Saucepan, Milk Pan with Glass Lid & Wooden Handle
This is enamel saucepan. Perfect to warm your morning drink like tea, milk, coffee and hot chocolate, also great for baby food.
Warm Tips: If something gets burned or attached on the bottom then soak it over night or use lemon, baking soda and water to boil it off and then it will looks like new again.
This Saucepan is available in designs:
Red Outside & White Inside
White Outside & White Inside
Specification

14cm diameter X 8.3cm Body Height X 16cm Handle
Full load capacity: 1100ml
Weight: 660 gram
16cm diameter X 9cm Body Height X 16cm Handle
Full load capacity: 1600ml
Weight: 780 gram
18cm diameter X 9.7cm Body Height X 16cm Handle
Full load capacity: 2100ml
Weight: 1025 gram
 (*Datas are measured manually, please understand that they may differ from the actual sizes)
Hand wash recommend . Not intended for microwave ovens, outdoor grills and bonfire.
Product features


Enamel finish is naturally non-stick
Carbon steel construction for even heating and cooking
Non-reactive finish won't absorb food flavors, or change the color or taste of your food
Ideal for warming up sauces, gravies, butter, milk, or melting chocolate and other melt purpose.
Fast heating, easy clean

It could also use for cooking baby food.

Durable finish is tough enough for metal utensils
Side handle for easy lifting and moving
Dishwasher safe for easy clean up
Why enamel?
Enamel is a glass material, smooth surface not easy to breed bacteria, easy to clean and maintenance.
Environmental non-toxic, enamel layer has excellent chemical stability, enamel has resistance to acid and alkali composition of corrosion
Completely neutral surface won't change the original food taste, give food die the purest taste.
Multi-USE . Healthy,All-Natural enamel coating ! It is your best kitchen partner.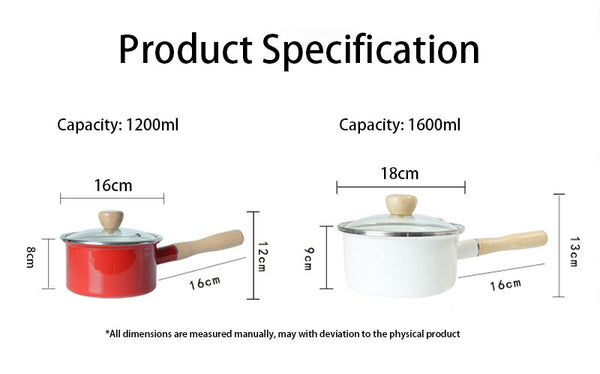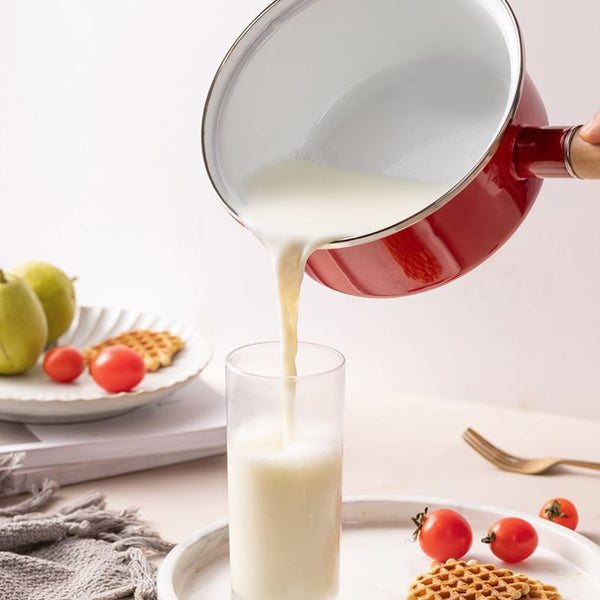 Direct from SA biggest cookware manufacture, value for money! 
Magnificent design is crafted from enamel on steel, so you can cook and serve in each versatile enamel product piece

From side dishes to dips and desserts, you'll turn to these nesting bowls again and again because of how evenly they heat and how easily they wipe clean

Enamelware dishes are oven and dishwasher safe (Do not microwave)

Reminder: 

demarcation

 goes coverage, this is normal and does not affect the use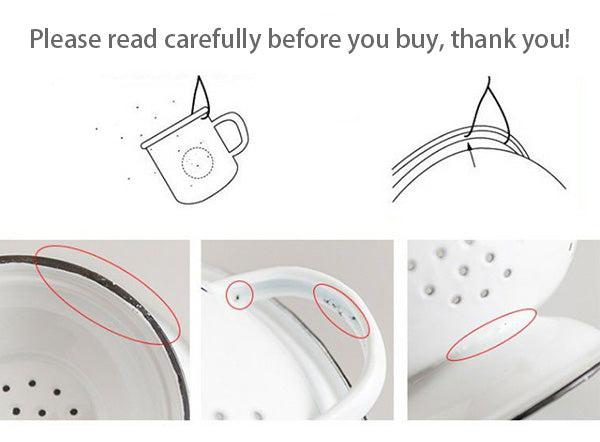 Notice:
Since our enamel products are all handmade, please understand they may have the following conditions but none of them will affect the use of the products.
Black spots may be formed if small dust is encountered during the firing process

 

in

 

the

 

kiln.
Small scratches may also appear on the surface.
The flower printings may not align perfectlly as they are all

 

handmade processed

.

Black spots will form in the contact point when the enamel product is hung and sent to the kiln for firing.