How to assemble 18 inch Big5 Kettle Braai
Direct from SA biggest manufacturer, value for money.
Material: High quality Enameled Steel

Cleaning system provides hassle-free ash cleanup

Porcelain-enameled lid and bowl retain heat, and won't rust or peel

Durable plated steel cooking grate retains heat and is easy to clean


Portable 22 inch Kettle Braai with bowl and lid. Durable BBQ braai plated steel cooking grate provides ample cooking surface for any meal of your grilling.

A perfect Go-anywhere kettle braai with two bowl handles and durable wheels for outdoor camping by getting your friends or family hovering around the braai, hungry for tempting charcoal flavor of burnt food. 

PERFECT HEAT CONTROL&RETENTION: Rust-resistant adjustable aluminum air vent damper allows for heat control without hassle to lift the lid. Two handles of the cooking grate make you easy to lift it to add or adjusting charcoal.

Heavy-duty durable plated steel charcoal grate design withstands the heat of any charcoal fire for a direct or indirect grilling with this charcoal grate. The round porcelain-enameled coating bowl and lid retains heat well to flow for even grilling.

EASY TO USE&CLEAN: The inside lid hanger hook under the lid could be hung on one bowl handle without hassle to lift it or put it on the ground. The ash leak under the bowl and the ash catcher become the best choice to be one-touch cleaning system. You just need to rotate the ash leak to move the ash down into the ash catcher for easy ash disposal and cleaning. The durable wheels make this Kettle Braai to be easy to move and transport for outdoor picnic and camping.

EASY TO ASSEMBLE: This portable charcoal kettle braai is easy to assemble with step by step instruction.

PERFECT GRILLING: You will love superior smoky flavor and then enjoy your wonderful meal of filet mignon, burgers, steaks, chickens, chop, turkey, summer squash, onion, asparagus, and shrimp.

Instructions: Dishwasher safe. For best results, handwash with mild soap and dry immediately. Avoid using abrasive cleaners and metallic pads. H

and wash recommended



Tips & Notes, 
 - Please kindly note enamel products are easier to chip compared to other materials cookware, especially at the edge of the hole when tightening the metal screws.
 - If you find it rust, don't worry, enamel and the steel under it are all food safe. You can use it without any concern.
 - You could remove the rust by using steel wool or scrub pads by slightly scrubbing the rust, and clean them with water, please store them in the dry place and dry them by using soft cloths before storage. 
Specification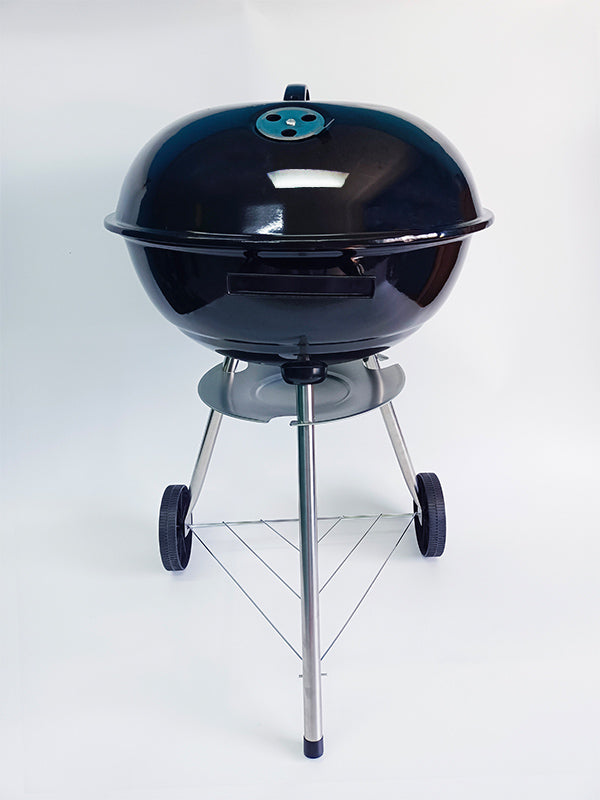 (*Datas are measured manually, please understand that they may differ from the actual sizes)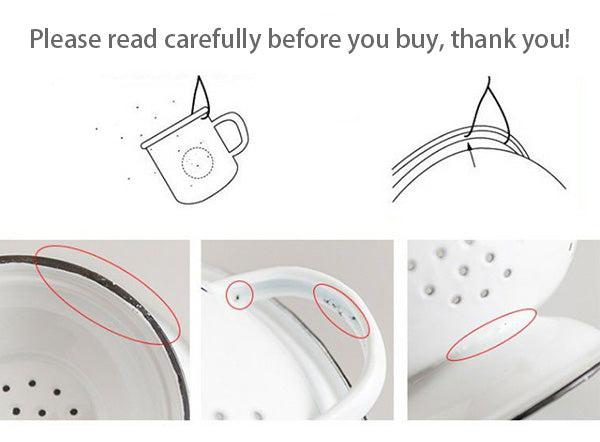 Since our enamel products are all handmade, please understand they may have the following conditions but none of them will affect the use of the products.
Black spots may be formed if small dust is encountered during the firing process

 

in

 

the

 

kiln.
Small scratches may also appear on the surface.
The flower printings may not align perfectlly as they are all

 

handmade processed

.

Black spots will form in the contact point when the enamel product is hung and sent to the kiln for firing.
Why enamel?
Enamel is a glass material, smooth surface not easy to breed bacteria, easy to clean and maintenance.

 
Environmental non-toxic, enamel layer has excellent chemical stability, enamel has resistance to acid and alkali composition of corrosion

 
Completely neutral surface won't change the original food taste, give food die the purest taste.
The most important characteristic of porcelain enamel is its resistance to corrosion. It can also produce very smooth, glossy finishes in a wide array of colors; unlike paint, these colors will not fade on exposure to UV light. Being a fired ceramic, porcelain enamel is also highly heat-resistant; this allows it to be used in high-temperature applications where an organic anti-corrosion coating or galvanization may be impractical or even dangerous.
(Source: Wikipedia)