PRODUCT DETAILS
Dove Enamel Mug Premier Quality
This Mug is available in three Colours:
White with blue rim
Black Flake - all black flake
Black Flake - outer black flake inner white
Blue Flake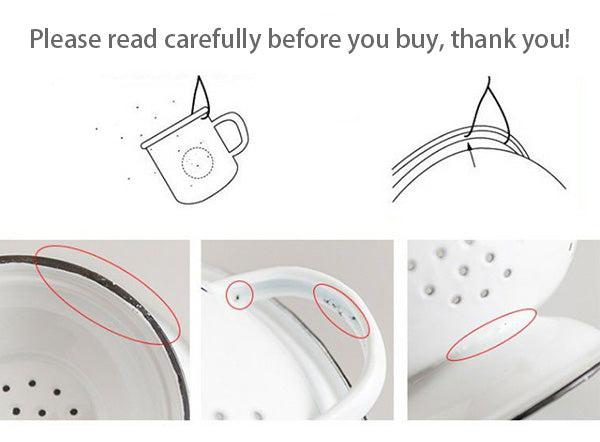 Since our enamel products are all handmade, please understand they may have the following conditions but none of them will affect the use of the products.
Black spots may be formed if small dust is encountered during the firing process

 

in

 

the

 

kiln.
Small scratches may also appear on the surface.
The flower printings may not align perfectlly as they are all

 

handmade processed

.

Black spots will form in the contact point when the enamel product is hung and sent to the kiln for firing.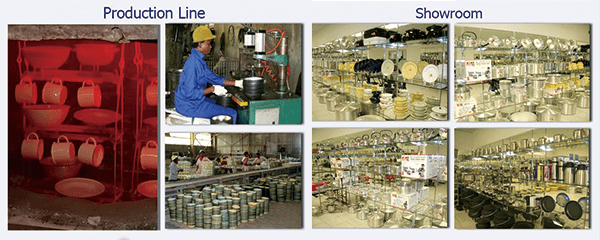 CARE & USE
 Can I use Dove Enamelware on the hob?
Yes. Dove it is oven-safe up to 530F / 270C and can be used on gas and electric hobs.

Can I use Dove Enamelware in the freezer?
Yes. Dove is freezer safe, just allow the required time for defrosting before placing the product in the oven.

Can I use Dove Enamelware in the microwave?
No, do not use any Dove enamelware product in the microwave, because our products are made of glass fused onto steel is not possible to use them to cook or re-heat any food in the microwave.

How can I clean my Dove Enamelware?
Lemon juice can remove stains from Dove enamelware products, such as tea stains on mugs. Soaking the products in warm soapy water will help remove baked on food, but avoid using abrasive sponges or brushes as this may scratch the surface. Coating your pans in a light layer of oil before cooking can help with cleaning after use.
Is it dishwasher safe?
Yes, all Dove Enamelware is dishwasher safe.

If my enamelware chips can I still use it?
Yes. Just like any other ceramic, the outer porcelain layer can chip if dropped, revealing the steel beneath it. When this happens the steel below naturally oxidises and the enamelware remains safe to use. Plus, in our opinion, it gains a little more character.